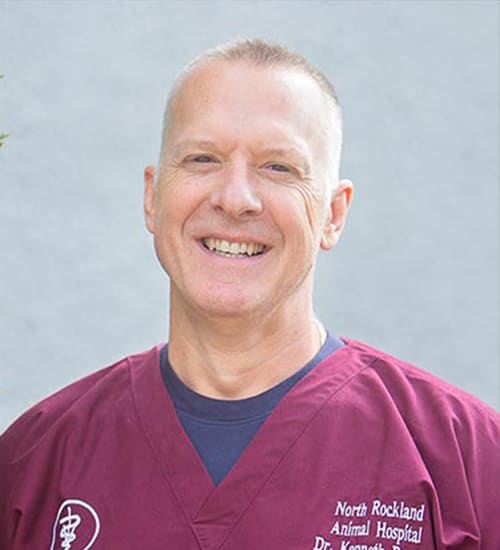 Dr. Kenneth Byman
Dr. Byman graduated from the University of Massachusetts at Amherst in 1984 with a BS in Animal Science before completing his Doctorate of Veterinary Medicine degree at Cornell University in 1989.
Dr. Byman was employed with Valley Cottage Animal Hospital for 6 years before founding the North Rockland Animal Hospital in 1995, where he is the Medical Director. He has been serving Rockland County's veterinary needs for 30 years. Dr. Byman is the proud father of three, and he resides in Garnerville with his wife, Teresa, who is also a veterinarian.
The Bymans share their home with Ginger, a North Shore Rescue shepherd mix; Mister Whiskers, a diabetic cat; and Doctor Rex, another precocious feline named. When not working, you'll find Dr. Byman at the gym, engrossed in a great book, enjoying music or riding his Harley Davidson.
Dr. Byman is experienced with using ultrasound and echocardiography to diagnose and treat internal medical cases and cardiac patients. He regularly seeks education in these and other areas to ensure that his patients are receiving the best care and treatment outcomes.